Exfoliating Set
Regular price
Sale price
$50.00 USD
Unit price
per
Sale
Sold out
Share
Description

Our set includes: Plant-based Face & Body Kese, Kefir Soap Bar, Honey & Oatmeal Soap Bar

Recommended for Sensitive, Dry, Oily or Combination Skin

* Exfoliate once a week

*Gently scrub if you have acne or acne-prone skin

* Please Discontinue if irritation occurs
Ritual

First, lather up using one our gentle soaps and rinse with hot water. A nice hot shower will open up your pores. Kefir and Oatmeal act as natural exfoliant while keeping your skin hydrated and smooth. Then, while in the shower, scrub your body with the Kese. Start gently and add pressure as you go. You will see the rolls of the dead skin slough off as you scrub. The more pressure you apply, the more skin will roll off - but don't overdo it! Wash your skin and Kese with warm water and hang your mitt to dry. Don't forget your face! As you step out of the shower, grab your face Kese and scrub gently- focus on your T-zone area. Finally, apply your favorite moisturizer or oil on your face & body and feel the difference in your skin. Your body will feel baby soft and unbelievably smooth.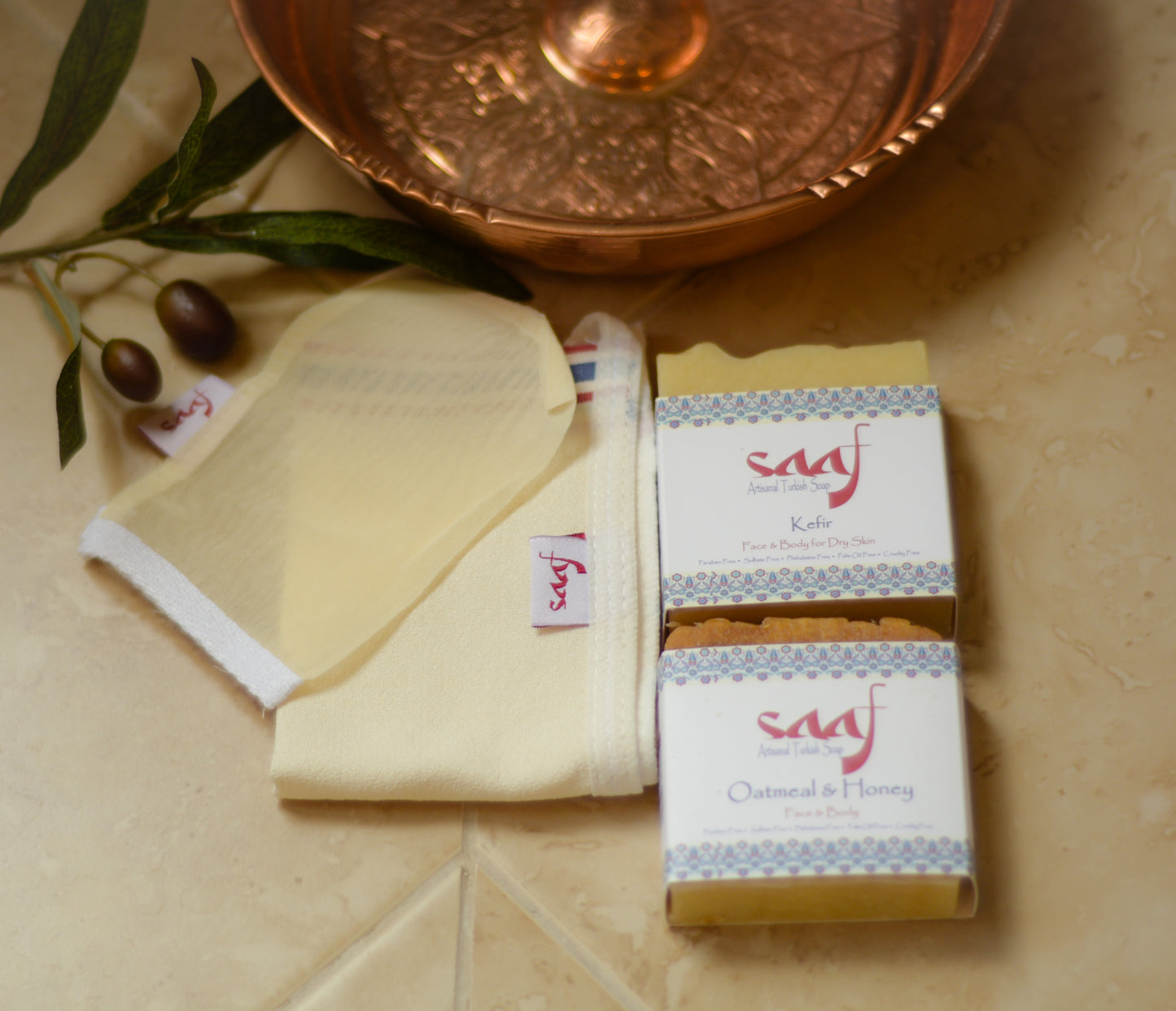 Smooth and healthy skin
I love this set. The soap is gentle on skin and made with clean ingredients. Everyone should have the exfoliating mitt to help remove dead skin cells and refresh the skin. My face/skin is glowing because of this combo. Perfect gift for friends and family.
SAAF exfoliating set is a GAME CHANGER !!!
Let me tell you I tried wet and dry exfoliating methods using Kese and both works amazingly!
Wet: during a hot shower scrubbing with the kese and kefir soap together are the best combo for silky skin.
Dry: after shower scrubbing with kese and immediately slough off dead skin. I wish I can attach a picture. ALOT of dead skin rubbing off after shower!! I definitely recommend it!
Another product that I used n became part of my daily skin routine is " Oud body oil " it smells heavenllllllllllyyyyyyyyyy . I loooveee it !!!
(( secret tip I added a couple of drops over my room candle and guess what! the entire room is aromatic. Can't get enough of it ))
Perfection
Both the soap and Turkish exfoliating cloth work so well together. I love using mine and have given them as gifts to many of my friends and family. Most recently my daughter could not believe how smooth her skin was after use. Also comes with great packaging and wrapped for giving.
Whoops I have only used the keses so far. Love them! Will definitely reorder replacements!
Exactly what I was looking for!
I bought the exfoliating set along with the Kefir and Goat's milk soap. Not only do I instantly feel my skin getting softer in the shower, but the smell of the soaps (especially the Kefir) is great. The smell isn't overwhelming but really gently and they smell clean. I bought the Kese and soaps at a convention and was able to use it right away. I instantly loved it and I've been using it since Sunday. The body Kese is big and not as abrasive as I thought it was going to be. I am loving the Kese and adore the soaps. Can't wait for an excuse to buy more! (also can we talk about how aesthetically pleasing the soaps look?)