Turmeric Soap
Regular price
Sale price
$9.99 USD
Unit price
per
Sale
Sold out
Share
Description

Face and Body Soap Bar

Turmeric has been used in South Asia for thousands of years as part of their skin care regimen. It is incredibly beneficial for oily skin as it regulates the production of sebum and oily substances produced by sebaceous glands. Turmeric is effective in the treatment of acne due to its antiseptic and antibacterial properties that eliminates pimples and breakouts which results in youthful glow to your skin. Turmeric has anti-inflammatory properties that relieve swelling, inflammation, and redness.
Skin Type

Oily, Combination, Acne- Prone
Ritual

Create a creamy lather using lukewarm water and scrub gently on your skin. Be sure to wash off the all the suds and avoid contact with eyes. Enjoy the light scent and refreshing feel of your skin.

* Please discontinue if irritation occurs
Ingredients

Turmeric, Olive Oil, Coconut Butter, Castor Oil, Water, Sodium Hydroxide, Shea Butter, Sunflower Seed Oil, Fragrance (1%)
Handmade in Turkey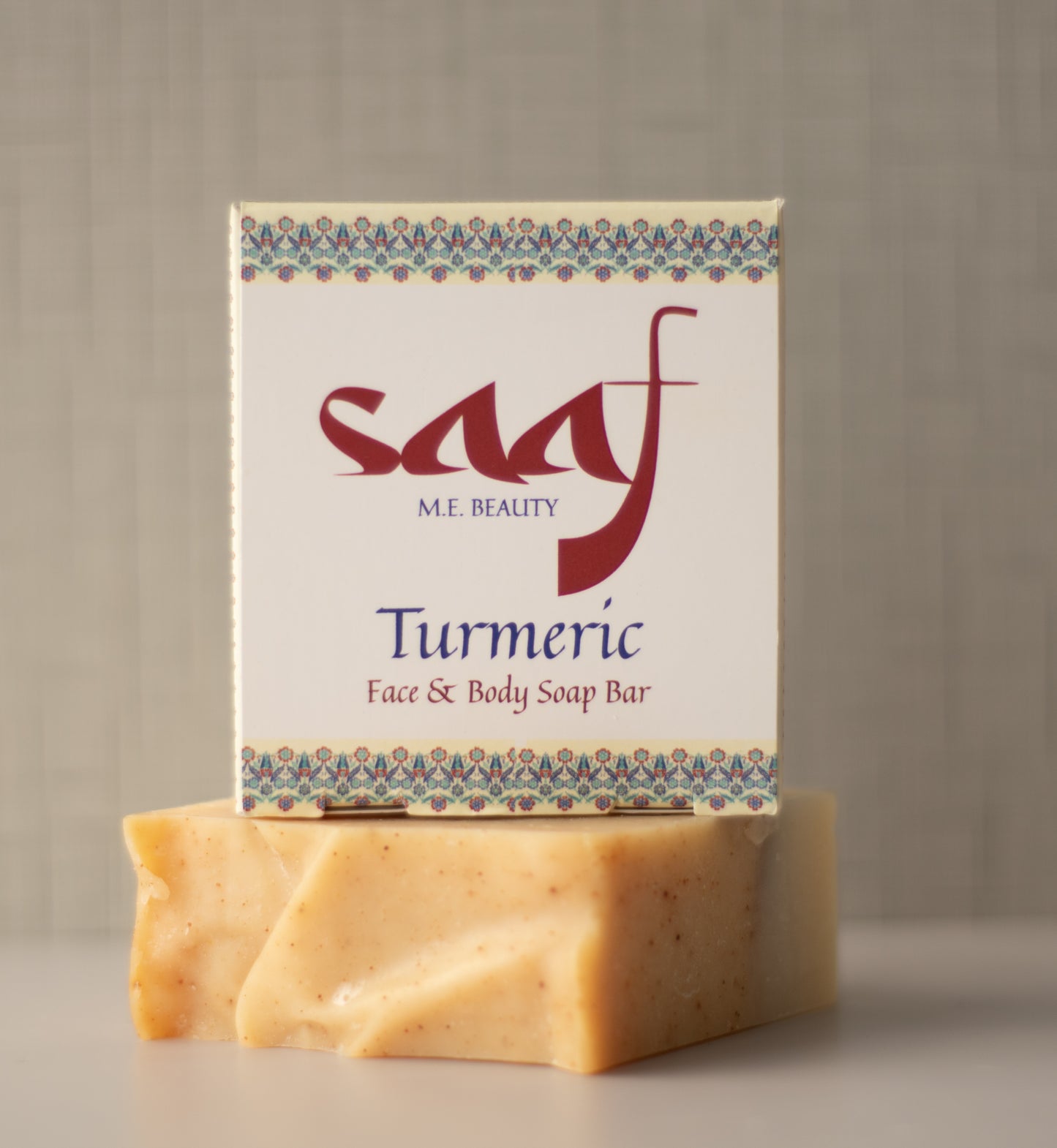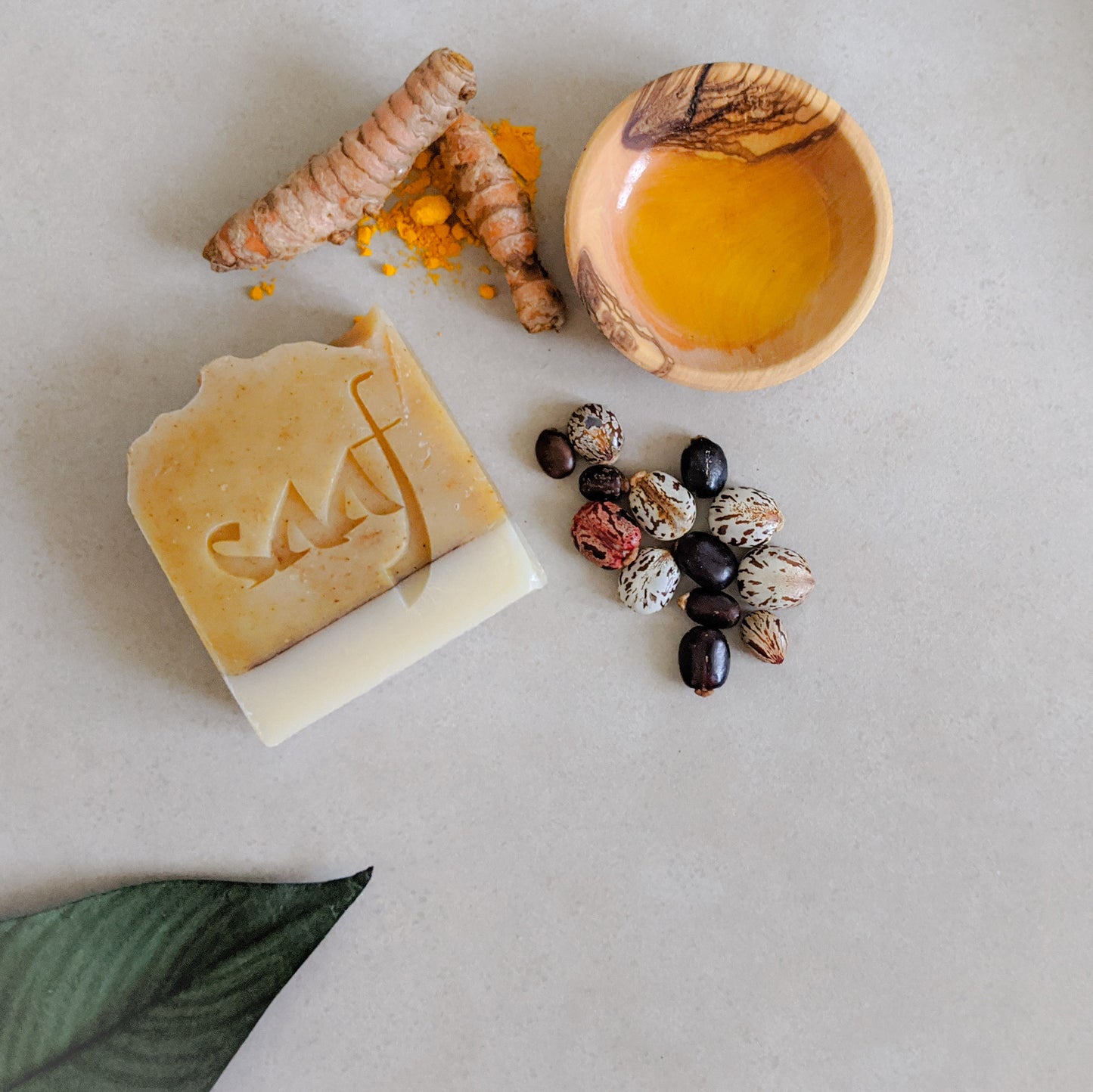 Divine
Luxurious scent, brings me right back to the spice bazaar in Istanbul. Leaves skin nice and soft.
Best soap ever
I absolutely love the turmeric soap. I bought it at the holistic health expo about a year ago the first time and have been hooked ever since! The scent is subtle but clean and has been helping with skin breakouts. Highly recommend all the saaf products!
Luxurious!
I've been on the hunt for a soap that has good/simple ingredients that lathers and is affordable. I found Saaf at a local farmers market and the couple is so sweet and passionate about their products. I tried the camel milk soap and it's a yes for me! Lathers, calming scent, good ingredients, and affordable. It even lightly scented my shower somewhat like what a shower steamer tablet does 🥹🫶🏽
In love
I have been using the camel milk bar and boy oh boy am I obsessed. It has essentially cleared up the acne on my back which is just amazing. And it leaves my skin so so soft. I also just got some poison ivy form working out in the yard- and dare I say I'm way less itchy after I use the soap?! And the smell- which is just an added bonus- is incredible. I still have the donkey milk, kefir, and oatmeal/honey to get through so stay tuned haha I might have even more feedback. But so far I really really enjoy this soap. Also- my mother loved her towels for her birthday gift!!
Donkey Milk Is My Favorite Soap
Of all time.
I cannot get enough of it! The scent is a soft and gentle linden kind of smell. Not overpowering, just the perfect accompaniment to this gentle and nourishing soap. My skin is so smooth and supple after use. Inflammation disappears. It's the skin I always wanted!
I also love the Camel Milk, and the Oat and Honey! I have used a variety of products from this company; towels, kesse, and soaps, and so far all of them have felt so luxurious! It helps me feel like my bathing is a ritual of self-care.